House of Magnets
The Magic of Magnetic Marketing!
When I come across a company that I am delighted with I have to share!
House of Magnets is one of these companies.
Finding inexpensive items of value to give to your customers can be challenging to say the least. House of Magnets makes it easy. They offer a wide variety of stock products to choose from that can instantly be used to get your name brand out there where it matters most – to your customers.
Great looking products, easy ordering process – online or by phone, excellent customer service, superior support, and to top it all off, it's INEXPENSIVE! They make delivering your gift easy too with their convenient mailing envelopes, or door knob bags for more personal hand delivery.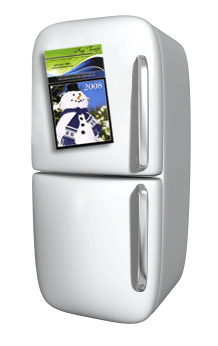 I personally use their stock magnetic calendars for my promotions. Seems fitting, yes? Marketing plans and calendars – they go hand-in-hand for my business.

Why use Magnets…
It helps build brand/name recognition with your potential customers.
It's a KEEPER! Having your information on the fridge tilts the odds into your favor when a customer needs your services or knows someone else who does.
A great addition to your marketing efforts for future business. Now a customer may not need you – but later, you're already there.
It's inexpensive and cost effective!
Here are a few ideas on how you can use magnets in your marketing plan.
Save more money! Purchase an inexpensive custom business card communicating a special message and call to action that ties into the theme of one of the stock magnets! It makes it look like you've customized the entire piece!
Do you have a niche market – develop a custom magnet that offers important information used regularly by your niche!
Think locally. What can you do in your own neighborhood?
Do a custom magnet for a local school or after school sports schedule!
How about a kid's rainy day activities magnet with a list of local indoor hot spots?
Magnetic Marketing can add some magic to your marketing mix puzzle. The possibilities are endless.

Give House of Magnets a try!


---